10 December 2014
Human Rights Chamber at Palais des Nations
International Human Rights Day


"Art transforms reality. Art can change the world."
Pushkin Gallery, on behalf of Kenneth Pushkin, has donated the painting Yellow Moons by the Russian artist Boris Chetkov to benefit the ONUART Foundation on the occasion of the United Nations 70th Anniversary & Human Rights World Day. The ONUART Foundation was honored to organize the first concert, "Culture for Peace", which took place in the Human Rights Council Chamber at the Palais des Nations. The concert enhances the value of art as a powerful engine in the development of human rights. The Chetkov painting, originally acquired for the Pushkin Group, Ltd. Collection in 2005, was auctioned during the concert presentation.
The ONUART Foundation is a private non-profit entity with public and private financing. Established in April 2007, its main aims are to promote art in the multilateral forums, project Spain's image abroad, boost the development of Human Rights and support the United Nations' concept of multilateralism as a universal channel of understanding.
Origin of the ONUART Foundation
The creation of ONUART was supported by the Spanish Ministry of Foreign Affairs and Cooperation, with the backing of private and public partners, following the visit of Their Majesties King Juan Carlos and Queen Sofia to Geneva in March 2005. During this visit, the United Nations asked Spain to make an artistic contribution to the Palais des Nations in Geneva.
On February 28, 2007, the Minister of Foreign Affairs and Cooperation and the Director General of the United Nations Office in Geneva signed a Memorandum of Understanding in Madrid to establish the terms and conditions of the Spanish refurbishment of Room XX of the Palais - which would later be named as the Human Rights and the Alliance of Civilizations Room.
In addition to refurbishing Room XX, Spain pledged to donate to the United Nations a great work of art to be placed in the huge 1,000 m2 ellipsoidal dome of the Chamber, made by the Spanish contemporary artist Miquel Barceló.
OHCHR
The Office of the High Commissioner for Human Rights (OHCHR) is the leading UN entity on human rights. It has a unique mandate to promote and protect all human rights for all people. OHCHR is led by the High Commissioner for Human Rights, a position established by the General Assembly in 2003. OHCHR works with governments, national institutions, NGOs, human rights defenders and individuals to monitor and implement human rights at the country level. Together with its national partners, OHCHR provides assistance and rehabilitation to victims, and helps them seek redress and reparations. OHCHR is headquartered in Geneva and has a liaison office in New York as well as a network of offices in nearly 60 countries. OHCHR's programmes are mainly funded by governments' aid budgets, but the organization is also increasingly reaching out to private foundations, businesses and individuals to mobilise the necessary resources to enable it to respond to an ever increasing stream of requests for assistance and support.
HumanRightsGifts.com
On July 22nd, 2010, ONUART Foundation signed an agreement with the Office of the UN High Commissioner for Human Rights (OHCHR), with the aim to disseminate human rights around the world through the creation of a Cultural Merchandising.
The program started by launching two different lines of products, both promoting the "Non Discrimination" human right; one of them including images of the dome's art work made by Miquel Barceló at the Human Rights Room in Geneva.
The Cultural Merchandising can be found in shops of important museums around the world, and can also be purchased on this site. Part of the funds obtained from the sales of this Cultural Merchandising, are donated to OHCHR to be used in different programs and activities with the aim of promoting human rights worldwide.
29 September 2014
Art Silicon Valley

Please join Pushkin Gallery at Art Silicon Valley/San Francisco this October. Our curator will be on hand to showcase the Lifetime Collections, discuss the Chetkov Mobile app and promote the Catalog Raisonné. We invite you to enjoy the digital new media work generated by our Pushkin Gallery prize recipients, Can Kesim, Chris Beran (VJ Beran) and Priscilla Torres, courtesy the Santa Fe University of Art and Design Film School.
Art Silicon Valley/San Francisco (Art SV/SF) is Art Miami's new International Contemporary and Modern Art Fair on the West Coast opening October 9-12, 2014. Centrally located between Silicon Valley and San Francisco, the fair is proud to present 75 highly respected international galleries and art institutions from France, Italy, Germany, England, The Netherlands, Finland, South Korea, Switzerland, United Kingdom, Venezuela, China, Austria, Argentina and The United States. The Fair will showcase investment quality Contemporary & Modern works of art for acquisition from the 20th and 21st centuries, including emergent talent and new media artists. Over 750 artists from 42 countries will be on exhibit during the fair.
In keeping with Art Miami's high standards of quality, Art SV/SF will present a curated balance of blue-chip art along with works by emerging, mid-career and experimental talent. The fair will offer the unique experience of viewing great art and exploring innovative cultural programming including on-site installation projects, interactive art, artist talks and fair tours for all audiences and taste levels.
Art Silicon Valley/San Francisco is pleased to partner with the following notable bay area cultural institutions, many of whom are organizing independent exhibitions and events for the fair. We welcome these curatorial efforts and opportunities to encounter new art and ideas as an added dimension to the weekend's events. We look to these cultural partners, along with the stellar international and U.S. artists and galleries represented at the fair, to provoke, surprise, and delight creative people throughout the Bay Area and Silicon Valley: Fine Arts Museums of S.F. (Artpoint); Creativity Explored; LISA; MACLA; SFADA; SJICA; Stanford Art Spaces; tmoro projects; UC Davis Art Studio; ZERO1; Shipyard Trust For The Arts (STAR); Djerassi Residents Artist Program; Leonardo; San Jose Museum of Art.
The Fair takes place at the San Mateo County Event Center in San Mateo, conveniently located at the crossroads of U.S. 101 and CA 92 freeways and just 10 minutes south of San Francisco International Airport.
The VIP Preview will be a two-tier evening, providing limited early access for Platinum VIP cardholders on October 9th from 6:00pm-7:30pm and continuing for all VIP Cardholders from 7:30pm - 10pm.
Courtesy Art Miami LLC
November 22-29, 2013
Russian Art Week Gala: Boris Chetkov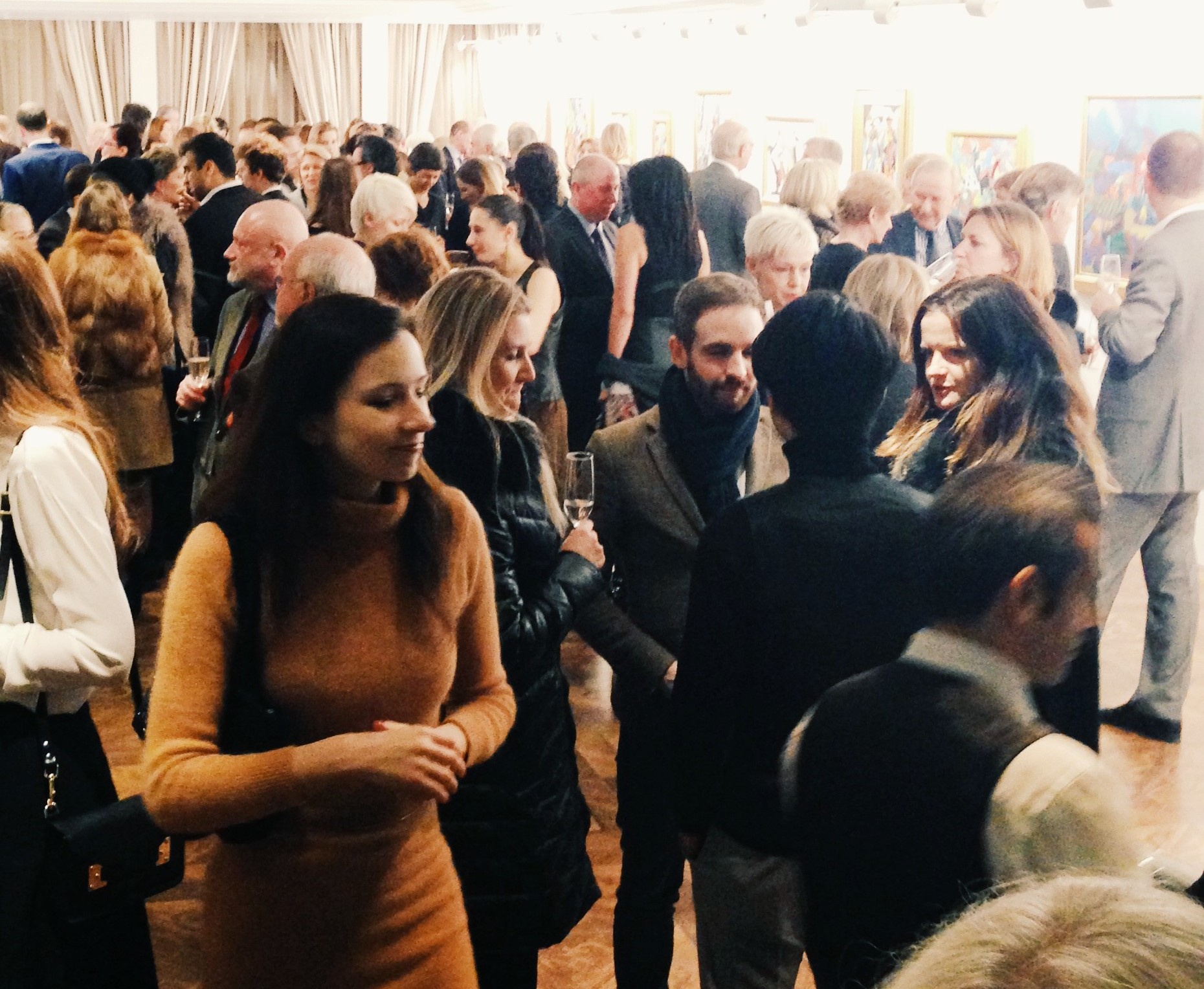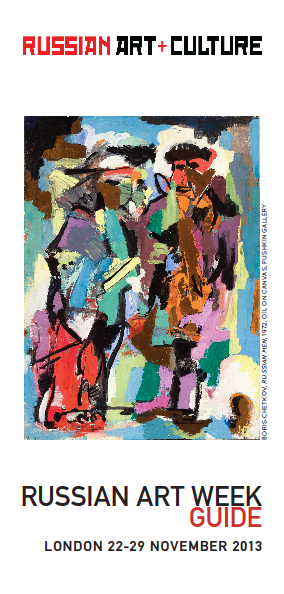 This November London's premier auction houses and venues are set to welcome the latest edition of Russian Art Week, the bi-annual showcase of Russian art in London. Auctions of rare and valuable Russian paintings, icons, Fabergé and works of art will be held at all the major auction houses. Russianartweek.co.uk will continue to work in parallel with Bonhams, Christie's, MacDougall's and Sotheby's to provide a comprehensive listing of the upcoming sales and events as well as a directory of Russian auction houses, galleries, dealers and specialist institutions.
Russian Art Week was launched in November 2012 by Russian Art and Culture alongside participating auction houses and galleries. Although the auction houses have traditionally held bi-annual sales, in June and November of Russian art, Russianartweek.co.uk was designed to provide a single source of information for all the week's events and bring together the commercial and academic audiences of Russian art. Our comprehensive guide to the event which lists sales details alongside other cultural events in the capital is available both as a free pdf online to download and printed copies will be distributed at participating venues. We are delighted to announce that this winter's Russian Art Week marks the first anniversary of the project, which has continued to grow in strength and support and the third edition of the guide.
June's edition of Russian Art Week saw a staggering £50million exchanged for masterpieces by the likes of Shishkin, Roerich, Mashkov and Fabergé and this November looks set to continue the trend. Macdougall's will be presenting Bathers at the Lido. Venice (£600,000-1,200,000), a rare painting by Leon Bakst depicting Nijinsky and Diaghilev. Ilya Mashkov's Bathers (£600,000 – 800,000) and a stunning jewelled double photo frame by Fabergé are set to be the stand out lots at Chrisitie's whilst Sotheby's have an avant-garde masterpiece by Robert Falk: Man in a Bowler Hat (Portrait of Yakov Kagan-Shabshai), estimated to fetch between £2,500,000–3,500,000. Bonhams, who broke records with their sale of Nikolai Roerirch's Madonna Laboris, will be featuring another work by the artist, Kanchenjunga, valued at £800,000-1,200,000.
In addition to the sales several galleries in and around London will be hosting Russian exhibitions. Highlights include Mayfair's St Petersburg Gallery which will be presenting works by Cubo-Futurist Vladimir Baranov-Rossiné, the New Hall Art Collection at Cambridge University and their show of works by contemporary female Russian artists and Erarta Gallery who will host an exhibition of paintings by Valery Valran. Russian Art Week founder Theodora Clarke will also be making her curatorial debut at the Westbury Hotel with an exhibition of paintings by contemporary Russian artist Boris Chetkov. The opening of the show will coincide with the official opening of Russian Art Week.
Other listed events range from ballet and theatre to talks and academic conferences. Russian Art and Culture will again be organising a series of special events, the highlight of which will be a joint event at the Russian Bookshop at Waterstone's Piccadilly. The roundtable discussion between historians Vladimir Alexandrov, Catherine Merridale and Giles Milton will reveal their surprising and fascinating discoveries as researchers in Russian archives.
This event also acts as a warm up to the upcoming UK-Russia Year of Culture in 2014. The next Russian Art Week will take place in early June next year.